Buying and selling property in Turkey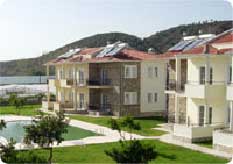 Citizens of countries who have a reciprocity agreement with Turkey can purchase a property in Turkey (Turkey has a reciprocity agreement with all European Union members). The only restriction is that the property can not be within a distance of a military area.
The transfer of the title has to be carried out at the Land Registry Office. It is legally compulsory for the seller and the buyer to be present on the entry of the property in the land registry, however it is also possible to delegate legal authority to another person by a notarised power of attorney. After the transfer of the property the Land Registry issues proof of ownership which is called `tapu` then the property will be transferred into buyer's name.
Foreign nationals can buy property in Turkey through a Turkish company. Companies with foreign capital established pursuant to Turkish law are treated as Turkish legal entities, foreigners can buy property in Turkey and no restrictions with regards to foreign nationals and the size or location of the property apply to them.
The work we can do for you;
Preliminary free consultation with client;
Carrying out all the necessary title checks related to building construction, the property's title(full or restricted), the area zone where the property is built before you sign the main contract;
We can deal with the reservation and preliminary contract on your behalf, our associate firms will accompany you to sign the final contract at the land registry;
Appointment of attorney by power of attorney to complete the transactions on your behalf;
Application for "military permission" on your behalf (this normally takes 8-12 weeks);
Dealing with planning permission applications to the local council;
We also check the existing planning permission and give you advice on planning consent for any changes that you want to make;
Holding your deposit;
Signing the final contract(tapu) at the Land Registry Office;
Ensuring registration of the property in the correct name(s);
General advice to those who are planning to buy property in Turkey.
We provide legal advice on tax matters related to your property in Turkey;
General advice on new Turkish mortgage regulations.( The new mortgage law and other relevant laws with regards to the regulation of the property market are expected to be enacted by the end of 2005)
Setting up Turkish limited companies and purchase a property through that company